Services
Supervision
While you are away you want to know what progress the workmen  or your gardener have made. Whether the pool is still clean and clear, etc. You want to be sure that no unpleasant surprises await your arrival. Normally everything is fine, but unfortunately sometimes things have gone very differently, and workmen have been paid in advance for something poorly done, or sometimes not done at all.
Total Service
Taking care of your villa means regular maintenance of your garden, solving an electrical problem such as a boiler that is not working upon your arrival.  Our services can also include getting in the groceries, so that a bottle of wine will be in the fridge when you arrive.  You will never call on us without getting a fully satisfactory response.
Maintenance
Have you ever experienced that when you arrive in France you have to start off your holiday by cleaning the house, mowing the lawn, or you discover your pool is green?   A house, garden and pool all need regular maintenance.  It takes just one phone call to Service Total France for all these things to be taken care of. We can also arrange and supervise service contracts for central heating systems, swimming pools etc.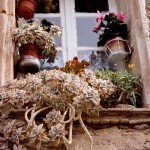 Security
Service Total is also a security organisation recognised by the French government.  One aspect of our 'House Minding Contract' is a regular check for signs of break in.  Should this occur we will liaise with the appropriate authorities, taking care of all the necessary paperwork and making absolutely sure your house is fully secured.
'House-minding Contract'
If you take out a 'House-minding Contract' we will check on your second home on a regular basis when you are not there.  Unfortunately Service Total France cannot foresee and prevent everything that could possibly go wrong.  But we can minimise the damage.  For a fixed sum  each quarter we will check on your house once every two weeks.  If any problems occur we will discuss and agree with you what should be done and take action. And: our partner companies will give clients who have a House-minding Contract a discount on every job done, which makes it additionally worthwhile.
Summary
This is only an outline of what Service Total France has to offer.  We would be happy to meet with you in person.  We believe that it is important to establish a relationship of mutual trust with our clients, especially because of the physical distances involved.  Your peace of mind at home starts with you being sure your second home is well taken care of.
Please CONTACT US to discuss your specific needs.